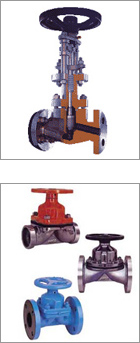 A one-stop-shop for all your needs in the segment of valves - diaphragm valves, needle valve, ball valves, butterfly valves, air valves, plug valves, check valves, foot valves, gate valves, globe valves, plug valves, reflux valves, safety valves, strainers, etc. since 1992........


Company Brief

Innovation, quality adherence, and regular product improvement are the buzzwords at Flomech Valves. The company has emerged as one of the most reliable sourcing destinations for valves in the national and international markets. With over one and a half decade of prominent existence, we have established an impeccable reputation in the valve industry for quality and excellence.

We are a manufacturer, supplier, service provider and exporter of diaphragm valves, needle valves, ball valves, butterfly valves, air valves, plug valves, check valves, foot valves, gate valves, globe valves, plug valves, reflex valves, safety valves, strainers, etc. We also design and develop cost-effective valves as per the specifications provided by our clients.

Our Endeavor

Our incessant endeavor to achieve total customer satisfaction makes us one of the leading companies in the valve sector. As a part of this endeavor, we:
Maintain high quality standards in our valves
Follow transparent trade practices
Adhere to a competitive price policy
Deliver products on time every time.

Products
The products that we manufacture, supply and export can be listed as:
Diaphragm Valves
Needle Valves
Ball Valves
Butterfly Valves
Air Valves
Plug Valves
Check Valves
Foot Valves
Gate Valves
Globe Valves
Plug Valves
Reflux Valves
Safety Valves
Strainers, etc.
Quality Assurance

We are committed to offer excellent valves in conformance with industrial requirements and international standards. Since our inception, we have been adhering to high standards of business ethics and stringent quality regulations in all our operations.
Our valves bear the stamp of excellent performance, durability, precision, dimensional accuracy, and other requisite parameters. Complete accuracy in production and quality is maintained through the use of different testing equipments. The quality control team at our unit ensures that each valve meets established norms and clients' specific requirements.


Our Strength
Setup:We are outfitted with state-of-the-art machines for the fabrication of high performance valves. These machines are high on performance and low on cost, therefore, helping us lower our costs of production
Workforce: Our team of engineers and other professionals is dedicated towards coming up with innovative products and solutions from time to time
Warehousing Facility: We have a well maintained warehouse, which helps us store bulk valves to meet all kinds of market demands within the stipulated time period.